No One Ever Says You're Fat: All Leggings Are NOT Created Equal
Leggings should slip on without effort. The advantage of leggings is their comfort and second skin cozy. Wearing leggings should not feel like you just walked out of the sausage factory. This is why women prefer them over jeans. If we wanted them to feel like a sausage casing, we would wear tights. I haven't worn fucking pantyhose in twenty-five years.
My issues with leggings are many. I'm 5'5″ right at the national average. To say I'm 5'5″ means very little in the world of women's sizing. I'm short waisted (fellas, it means my rib to hip length is short). By contrast, I have a 32″ inseam that means my legs are longer in proportion to my height.
In the good ole days, I could buy shrink to fit Levi's 501s to match my waist and inseam (sized up for shrinkage). I could go back to those shrink to fits, but the Universe gave us stretchy denim. The clouds parted. The angels sang. Mana rained from the skies.
Yes, stretchy denim was a gift, but there was a trade-off. It's a pain in the ass to customize your fit as a woman. I need a 31″ waist with a 33.5″ inseam. Everyone has a general ratio, and for me, it's generally bullshit. The fact that the ratio changes with the cut, fabric, and brand muck shit up.  Let's not forget to mention, every fucking individual company has its own sizing ratios!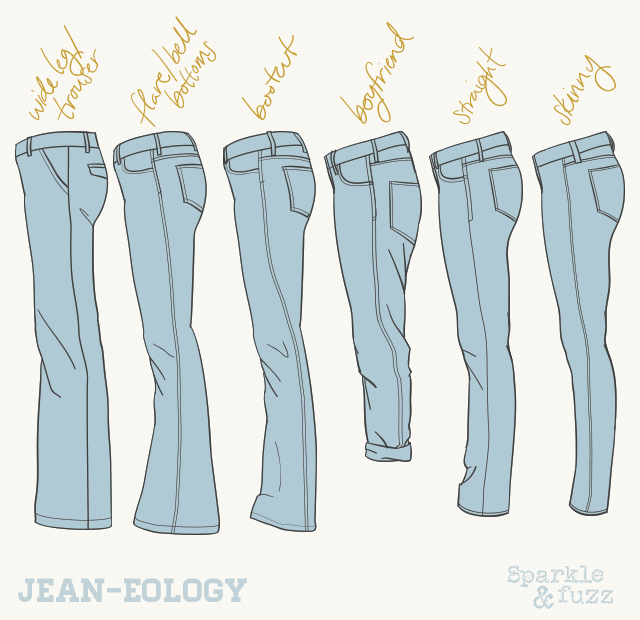 The Skinny: someone should be shot for these. The Super Skinny: Shot in the knee and lit on fire. The Stovepipe/Straight cut: my all-time favorite, most flattering cut that I bought three pairs and have since been changed. The Boot-cut. The Boyfriend: back in the day, we just bought shrink-to-fit 501s two sizes too big. Cropped, City fit, Rockstar, Jeggings, and now we're back to high waisted.  The advent of low waisted jeans was almost as critical for me as stretch denim. FUCK!
The struggle is real, people.
This is the reason leggings are an irreplaceable item in a women's wardrobe. Jeans suck. Leggings are our stylish answer to the sweatpant. Now actually called a jogger. Double eye-roll.
Not all leggings are created equal either. It's a ratio quandary. Even at 180 lbs (there I said it out loud, fuck, fuck, fuckity fuck) I'm solid in a women's size 10-12. Remember, there are multiple factors: brand, cut, fabric, and time of the month. I'm experiencing both PMS and menopause. It's SO much fun.
Leggings are exactly the same regarding fabric and brand. Here's a qualitative observation, the cheaper, the legging the larger the sizing. Apparently, she-she brands think only skinny women count. Sometimes, even a large in some of the well-known brands don't fit my J-Lo booty, athletic, short-waisted, large breasted, long-legged, broad-shouldered body.
Fuck that noise, as if I'd pay $80.00 for a pair of leggings. That's moronic. Yes, this is me judging.
Yoga pants are even worse. Most mediums in yoga pants are ridiculously long. Everybody knows only lithe, long-limbed, flat chested, skinny women need yoga clothes. Fuck you.
I've found the solution. I love me some harem pants. The Beard hates them. Like I care. I don't even mind the MC Hammer comments. Not the ruched, rayon balloon pants, I do have a few of those in my stash. I'm talking fabulous knit, basic solid, with pockets harem pants.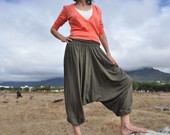 They're like the Leatherman of pants! They slice, dice, julienne, and chiffonade. Casual, dressy, yoga, lounging, you name it, these pants fit the task. They work in all four seasons.  I've found a goddess who makes them. 
I purchased four pairs in 2013, and they're still holding up. I recently custom ordered four more pairs with pockets!
They're affordable. They wash beautifully. It's almost as good as being naked with pockets. You may never see me in another kind of pant again. It's HAMMER TIME.