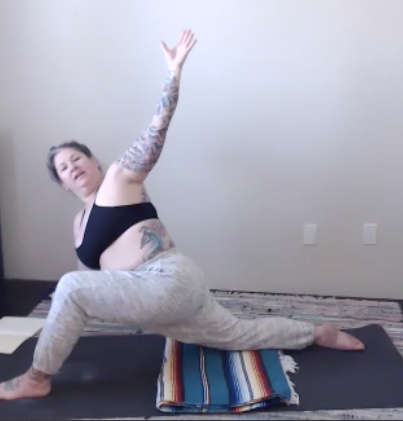 I'm behind the power curve. No news there for any of you who know me, but I'm struggling. I'm not alone. I mean, I am alone, but we're in this together. Wow, that was a terrible sentence. We're doing online yoga together. In our own space. It's the best I've got at the moment!
Extra, extra! I'm building an online gig. The heady mix of pandemic and political crisis has created an environment of WTAF that is wearing me out. I don't feel comfortable teaching in a group setting where people are not required to wear masks in recycled air indoors.
The COVID isn't a conspiracy. I had it. I almost died.
I am celebrating four months of being out of bed and mostly normal. I say mostly because I'm still short of breath, experiencing vertigo, fatigue, and weakness. I'm having more good days than bad, but I'm part of a group called the Long Haulers.
I'm hearing from a lot of you who want to see me back at the recreation center. I get it. Working out at home under the best of circumstances doesn't work for a lot of people. I've always said, I teach fitness so I HAVE to work out.
You know I don't advocate animal yoga because it really should be classified as animal parkour. If you want to roll around on the floor with goats, cats, or dogs, I have the group to do it with.
We don't all have room to place our yoga mat. I barely have the room to do yoga and my hubby moved his office to the garage so I could video my classes. It's not ideal and many of you have expressed the value of my classes is my PRESENCE. I love that! But . . . oh, you knew it was coming.
The benefits of being my own online yoga brand are many:
I don't have to moderate my language. (You know how fond I am of profanity.)
The commute is short. Especially after Evening Yoga. (My glass of wine is right down the hall!)
I can build my own schedule. You can catch me live or recorded. (Last night, I recorded EY early and had a movie night with The Beard.)
I am looking at making a new space to have yoga retreats and workshops IN PERSON within an hour's drive so we CAN do yoga together.
My yoga brand is available to you from anywhere you happen to be! (Shout out to my long-distance peeps!)
It's going to take time to find a new sense of normal.
Of course, I think the benefit of being IN CLASS together is important. I miss your faces! I like our chats and knowing what is going on in your lives. And while I do make myself laugh, hearing your giggles and snorts makes my day.
I've had my dark days and I'm likely to have more. Being smart, safe, and healthy means keeping some aspects of quarantine. I never want to feel like I did when I had the COVID and there's evidence I could get it again. Nothing will gut punch me more than hearing one of you succumbed to the virus.
Doing yoga together in the same space isn't worth your life. Or mine.
Baby steps. It's going to take baby steps to find our new grove and I can't wait to have the space to find that groove in person. For now, I'm here. Online. Doing what I do.