With the flu making the rounds and now the covid-19 virus hanging around for DAYS, several people have asked about the blankets at the recreation center. As well they should.
Those blankets get washed once a year during the August shut down. Now, you may or may not care but I'm enough of a germaphobe to like to control my washing schedule. Just as I recommend investing in owning a mat  I also think if you use a blanket, you should likewise invest.
As my normal supplier is out of stock of what I consider primo colors, I did some poking around on Amazon. No surprise, the prices run from $13.99 to $80.00. I took the hit and ordered four blankets to see how they compare to the blankets I have.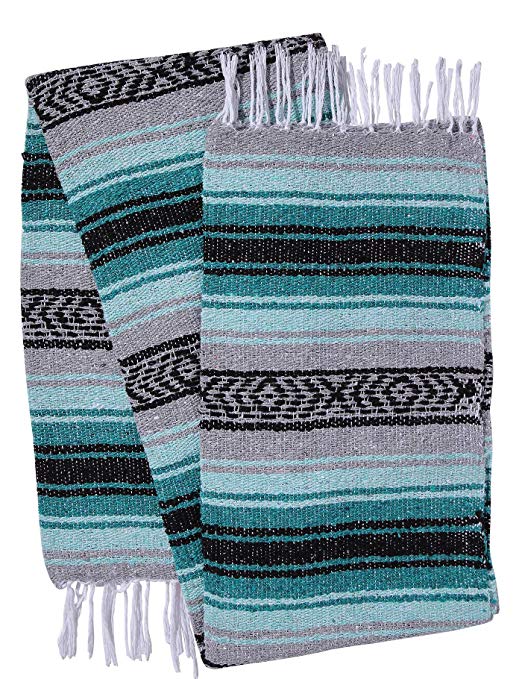 The first one is from El Paso Designs. It's 51 X 74 and comes in a variety of colors from the basic ROYGBIV spectrum to some humdingers. This blanket ranges in price from $16.99 to $18.99 depending on your color selection. Be sure NOT to get the sarape style blanket as those are a thin cotton weave and while I have more than a few of those that I love, they aren't thick enough for yoga.
This El Paso blanket is about the same quality of the blankets at the rec center. Though it may be a tad thinner than the blankets I've ordered in the past. Of course, it will fluff up the more you wash it. It has what I consider a looser weave of a traditional Mexican blanket. Now, it shrank down to 46 x 66 after washing, so I think at $17.99 it's not a great buy.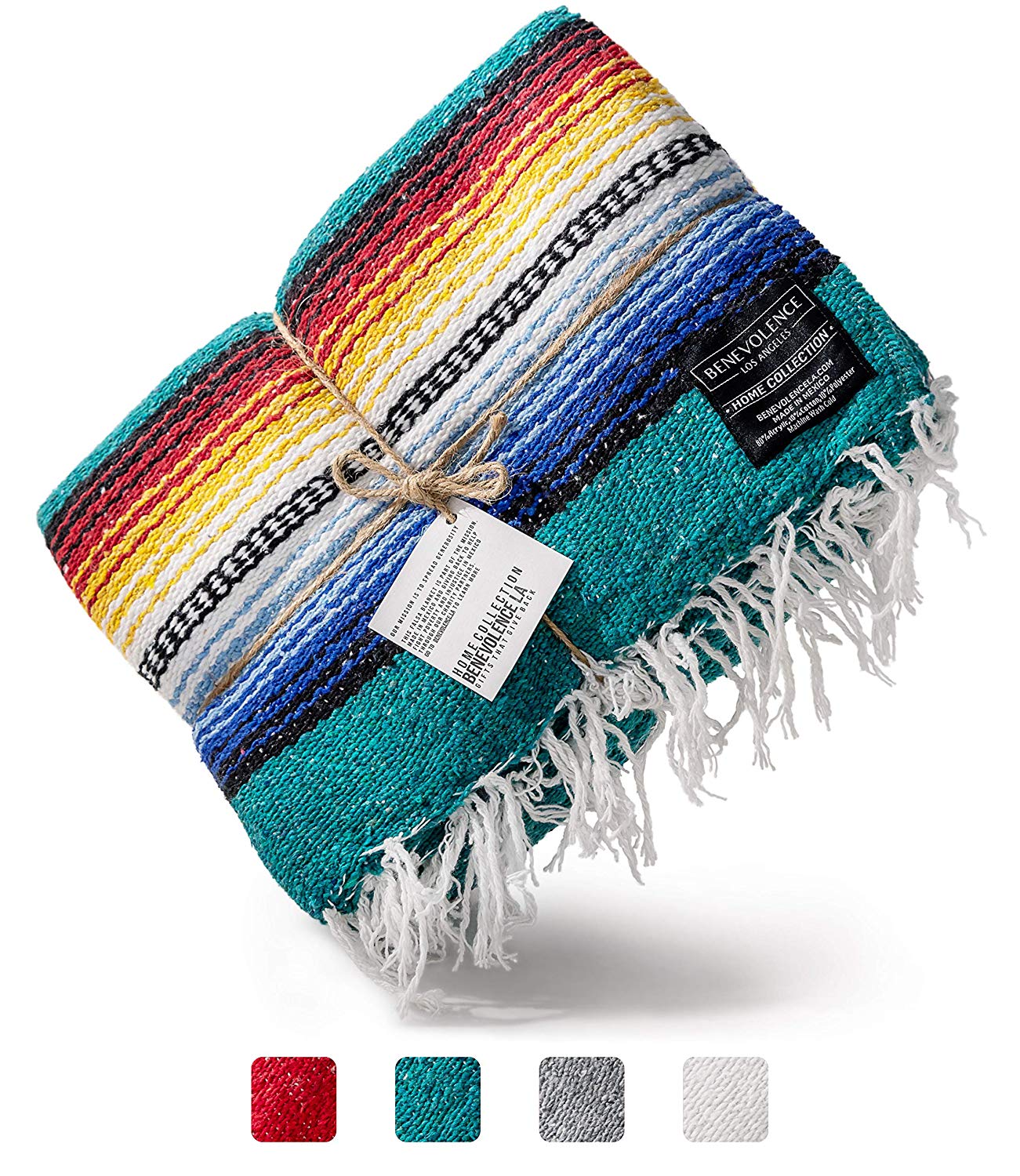 The next price point up, I chose a blanket from a company called Benevolence LA. These blankets came in four different color schemes in what I would call a traditional pueblo weave. This blanket is a little thicker than the El Paso and at 51 x 79 is a little longer than the El Paso which would serve you better if you are on the tall side.
Thicker also means a little heavier, so this blanket will take up some room in your yoga bag. Even though it's a bit thicker, it still has that loose Mexican weave. It shrank after washing to 49 x 78, so a little better quality than the El Paso Falsa blanket.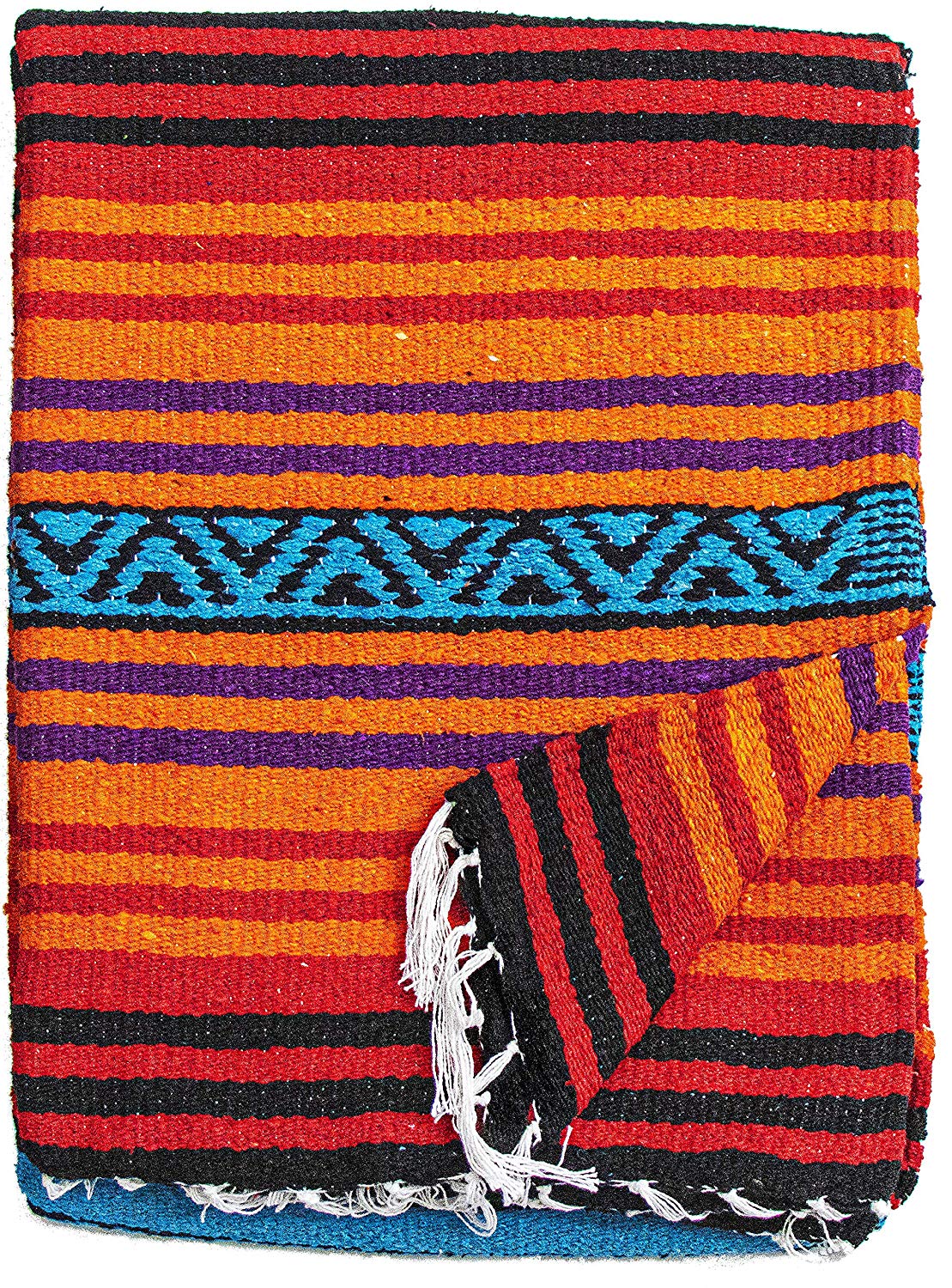 The third blanket I ordered was from El Paso Designs at higher pricepoint. The Peyote Hippie blanket is a substantial quality jump from both the first El Paso blanket and the Benevolence LA blanket. At $29.99, only two dollars more than the Benevolence, it's thickly and tightly woven and comes in seven terrific color blends. At 54 x 74, this blanket is a beast.
It's firm and heavy, weighing two pounds. I used this in Saturday Yoga this week and while I initially thought it might not be as cushioning as my other blankets, I really liked it. But it definitely takes up some room in my bag.
It's wider than any other yoga blanket I have and sits a good inch on either side of my yoga mat. I may be digging in for another one of these.
Bonus: no shrinkage.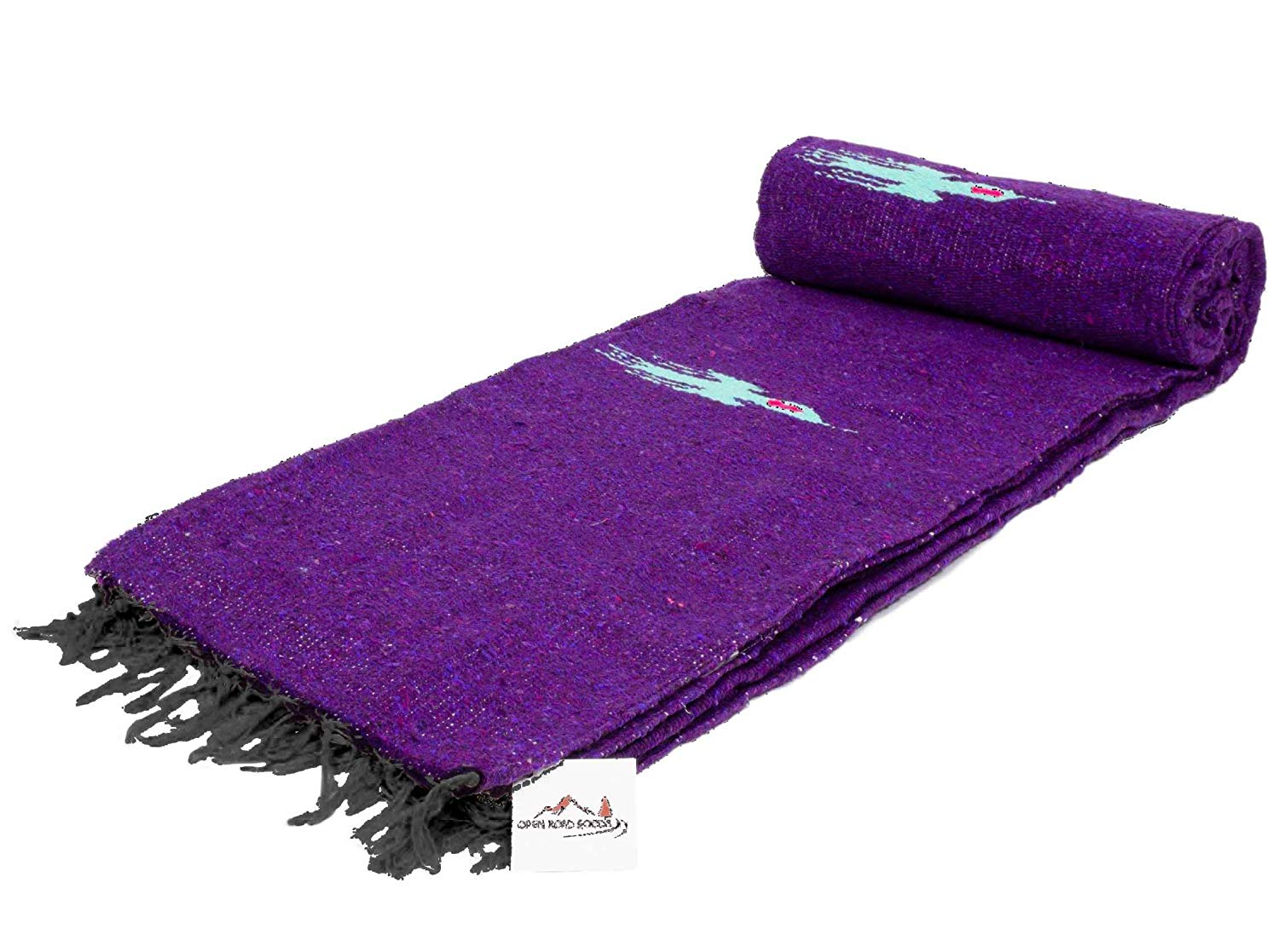 The last blanket I ordered is from Open Road Goods.  This blanket hasn't arrived yet. But reading the reviews and looking at the photo, it looks to have the same close, heavy weave of the Peyote blanket though reviewers described it as medium weight.  It is 54 x 78, so comes in as the largest blanket in the group. Wide like the Peyote and long like the Benevolence, this might be the winner for those taller in our merry group. Author's update: not even what I consider a medium weight blanket. For being the highest in my price point at $35.95, this is not a thirty-five dollar blanket. This looks and feels like the $17.98 blanket. It also shrank in width to 48 inches post-wash and PILLING.
It comes in ten different solid colors with Thunderbirds. Several of the color options are on one page, but you may have to chase down in different colors in different links.
I don't have this one yet, but I'll be toting the Benevolence LA blanket to classes this week and I'll bring the Open Roads blanket next week if you want to check them out in person.